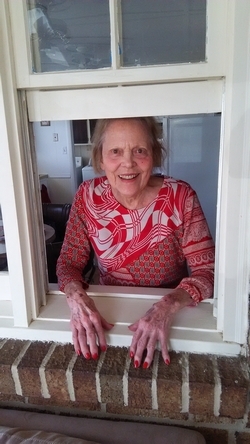 Dorothy Maxine "Mickey" Foley, 97, of North Beach passed away July 24, 2018. She was born December 31, 1920 in Providence, RI to Leon Bennett and Edith (Alden) Lamb. Mickey was raised in Cranston, RI and graduated from Cranston High School. During WWII Mickey traveled the country following her husband and volunteered as a "Gray Lady" with the American Red Cross, assisting veterans and their families. Mickey lived in Quonset Point, RI for 55 years before moving to North Beach in 2009.

Mickey was a gifted musician and loved playing the piano, trumpet and violin. She was employed as a piano teacher for many years. Mickey was a very artistic and talented seamstress, making most of her children's clothes, including sport coats and wedding dresses. In her leisure time Mickey enjoyed gardening, boating, and ballroom dancing. She will be remembered as a helpful person who often visited with sick people and helped their families by going to the store and doing things around the house for them.

Mickey was preceded in death by her husbands George Milton Allwood and Francis J. Foley and brother Robert Lamb. She is survived by her daughter Sandy Foley of Owings, son David Allwood and his wife Karen of Milford, DE, grandchildren Ted, Tim, Katie and Michael Foley and Tyler Allwood, great-grandchildren Penelope, Violet, Elizabeth, Lily and Porter Foley and Trey Allwood and cousin Norma McCloud. Arrangements by Rausch Funeral Home.