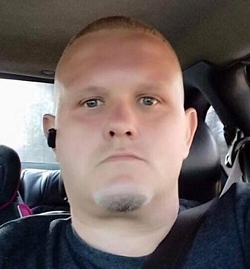 David Franklin Scruggs, Jr., 42, of Chesapeake Beach, MD passed away in Chesapeake Beach on July 20, 2018. David was born on November 14, 1975 in Washington, DC to David Franklin Scruggs, Sr. and Theresa Anne Bowen Scruggs.

David had lived in this area for the past 36 years. He had been a sheet metal mechanic and an employee of A&R Mechanical. He was also a member of Sheet Metal Workers' Local 100 for many years. David was described by his family as being "very generous" and "the type of man who would give you the shirt off his back." He was known for his sense of fashion and his meticulous appearance. He loved all of his children very much and thought of them often especially when he was unable to be with them.

David is survived by his parents, David Scruggs, Sr. and Theresa Scruggs; sister, Tiffany Canter and her husband, Jason; fiancée, Christina Fucaloro; sons, Dominick Christopher Rogers and Dane Gabriel Scruggs; daughter, Cloey Marie Scruggs; maternal grandparents, Gerald Bowen, Sr. and Patricia Bowen; aunts, Kathy Redmond and her husband, Rick, Debbie Scruggs, Chris Ollie, Darlene James and her husband, Frank, Kathy Stevens and her husband, Francis and Linda Hildebrand and her husband, Russell; uncles, Fred Phipps and wife, Debora, Gerald Bowen, Jr. and his wife, Rue and Jamie Scruggs and his wife, Diane and many other relatives and friends. David was preceded in death by his paternal grandparents, Frank Scruggs and Marsha Greene.

Memorial contributions may be made to the local addiction center of one's choice. Arrangements by Raymond Wood Funeral Home.