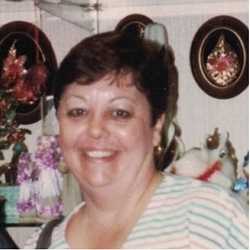 Mary Elizabeth Thompson, 72, of Newburg, MD passed away on July 20, 2018 at Bridge Pointe Health Care in Washington, DC. Born on December 10, 1945 in Fredericksburg, VA to the late Robert Burgess and the late Irene McWhirt, Mary is also predeceased by her son, James Hood; brothers, Ralph Burgess, Ronnie Burgess and Delmar Burgess; and grandchild, Jason Boarman. Mary was a floral designer and lover of flowers and crafts. She enjoyed baking, shopping, spending time with her family and conversations with her friends.

She is survived by her loving husband, Joseph Thompson, Sr.; son, David Thompson; daughter, Vicky Boarman-Phillips; sisters, Shirley Marquis, Ruth Ann Copeland and Lisa Dickerson; grandchildren, Kayla Thompson and Justin Boarman; great-grandchildren, Aiden Dutrow, Jason E. Boarman and Millie Boarman; and a host of other relatives.

The family will receive friends on Friday, July 27, 2018 from 2PM to 4PM at Arehart-Echols Funeral Home, PA (211 St. Mary's Ave., La Plata, MD). A Funeral Mass will be held on Saturday, July 28, 2018 at 11AM at Holy Ghost Catholic Church (15848 Rock Point Rd., Newburg, MD). Interment to follow in the Church Cemetery. In lieu of flowers, donations in Mary's memory can be made to Alzheimer's Association.