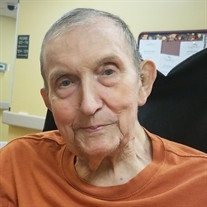 Robert P. Miner Sr., 85, of Waldorf, Maryland, died on Thursday, July 19, 2018 at Sage Point Senior Living in La Plata. Born on September 13, 1932 in Rogersville, Tennessee, Mr. Miner was the son of the late Louise and Hagen Miner. He served in the U. S. Army and Navy for a total of six years of service to his Country. In his younger years, Mr. Miner enjoyed playing all types of sports. He was a member of the Optimist Club and Operating Engineers Local 77. Mr. Miner was a fan of the University of Tennessee and the Washington Redskins.

In addition to his parents, Mr. Miner was preceded in death by his wife Wanda Lee Miner and eight siblings. He is survived by his children Martha A. Dorris of Ashburn, VA, Robert P. Miner Jr. and his wife Michelle of Mechanicsville, MD, Mary Lou Miner of Sykesville, MD and Tim Miner and his wife Amanda of King George, VA; his grandchildren Alexandra Yerkes and her husband Russell, Nicholas Miner, Taylor Miner, Grace Miner, Carson Miner, Jaxson Miner and Kennedy Leeann Miner; also survived by numerous nieces, nephews, other relatives and friends.

Visitation on Monday, July 23, 2018 from 10:30AM until time for service to begin at 12:30PM at the Raymond Funeral Service, P.A. 5635 Washington Avenue, La Plata, Maryland 20646. Interment to follow at Trinity Memorial Gardens in Waldorf, Maryland. Memorial contributions may be made Waldorf Rescue Squad, 1069 St. Ignatius Drive, Waldorf, Maryland 20602.