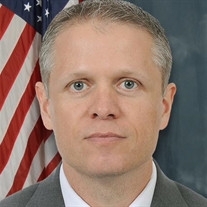 Nole E. Remagen, 42, of Dunkirk, MD, died on Tuesday, July 17, 2018 In Glasgow, Scotland. He was the son of Ronald and Marlene Remagen, born December 31, 1975 in Oakland, MD. Nole graduated from Old Mill High School, Class of 1993 and proudly served in the Marine Corps 1994-1999. He graduated Magna Cum Laude, from the NY Institute of Technology and was employed by the United States Secret Service 1999-2018.

Nole married Tara Marie Terrill in 2005, together they have two beautiful children; Evan Edward eight, and Kate Marie six. Nole is also survived by one brother, Adam and his wife Laurel, their son Kellen of Frederick, MD; his Father-in-law and Mother-in-law Alan and Kathi Terrill of Harberson, DE; one brother-in-law, Tim Terrill and his wife Margaret, their four children; Aidan, Brendan, Colin, and Shannon of Buffalo, NY and his many brothers and sisters at the Secret Service and the Marine Corps.

Visitation will take place at Lee Funeral Home Calvert, 8200 Jennifer Lane, Owings, MD 20736, on Friday, July, 20, 2018 from 4 to 8 pm. Funeral Services will be held at the Covenant Community of Jesus the Good Shepherd Catholic Church, 1601 W. Mt. Harmony Road, Owings, MD 20736, on Saturday, July 21, 2018 at 1:30 pm. In lieu of flowers, the family respectively request that contributions be made to First Responders Children's Foundation.