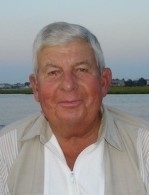 William Reeves Mattingly, "Hoof" of Mechanicsville, MD passed away surrounded by his two loving children on July 13, 2018. He was born in Mechanicsville, MD on June 21, 1938. William was the son of the late Eleanor Reeves Mattingly and William Sylvester Mattingly. William was the loving husband of the late Catherine Rae Mattingly, "Cacky" whom he married on September 26, 1959 in Mechanicsville and who preceded him in death on December 17, 2016. William is survived by his children, Richard Mattingly of Mechanicsville, and Donna Karlsons (Erik) and grandson, Lukas of Silver Spring, MD.

William was a lifelong resident of St. Mary's County, MD and graduated from Charlotte Hall Military Academy in 1956. William was a lifelong farmer and loved nothing more than being outside and working the land. He grew up on the farm that he eventually took over and worked alongside his son for over 35 years. William also had a special love for his favorite beer, so much so that he ran Mattingly Distributors selling Miller Brewing products and his personal favorite, Miller Lite, throughout St. Mary's County for 35 years. He sold the beer business in 2000 and continued with his farming operation.

William joined the Mechanicsville Fire Department in 1955 and spent 42 years with the fire service. He was a life member of the fire department and served on the Board of Directors since 1991. In 1958, he was a Charter Member of the Mechanicsville Rescue Squad and served for 20 years. He was also a member of the Mechanicsville Lions Club and an active member of Christ Episcopal Church in Chaptico. William enjoyed his farm life and especially loved spending time with his grandson on the farm.

The family will receive friends on Thursday, July 19, 2018 from 4:00 PM to 8:00 Pm with prayers recited at 7:00 PM followed by Mechanicsville Lions Club, Mechanicsville Vol. Fire Dept. and Mechanicsville Rescue Squad prayers. A Funeral Service will be held on Friday, July 20, 2018 at 10:00 AM in Christ Episcopal Church Chaptico, MD. Interment will follow in Queen of Peace Catholic Cemetery Helen, MD. The pallbearers will be: Richard Mattingly, Scott Armsworthy, Michael Quade, Tommy Bowles, Steve Montgomery and Robert Buckler. Honorary Pallbearers will be: Sonny Burch, Robert Burroughs, Raymond Quade, Erik Karlsons, Jackie Mattingly, Johnny Wood, Ray Copsey, Oscar Buckler, Allie Raley and Andy McWilliams. Contributions may be made to the Mechanicsville Rescue Squad P.O. Box 15 Mechanicsville, MD 20659 and/or the Mechanicsville Vol. Fire Department P.O. box 37 Mechanicsville, MD 20659.