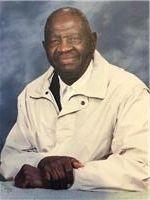 Albert E. Butler Jr., affectionately known as "Hop Sing", was born to the late Albert E. and Veronica Matilda Gough Butler on September 17, 1928, in Philadelphia, PA. Albert was called to eternal rest on Friday, July 13, 2018. He received his early education at Cardinal Gibbons School. He married Mary Catherine Clayton (Hickson). Out of that marriage, 13 children were born; 9 boys and 4 girls. He was later married to Brenda Baylor in April, 2003.

Albert was employed as a roofer for 18 years at the Navy Yard in Washington, DC. Albert enjoyed fishing, crabbing, cooking, dancing, family gatherings, landscaping, and most of all, fixing and repairing anything that needed fixing. He was well known throughout the community for mowing lawns and building or fixing anything that was asked of him.

Albert was preceded in death by his son, Thomas A. Butler; daughters, Judy Perrine and June L. Butler; his siblings, Doris Miller and James M. Butler. He leaves to cherish his memories his wife, Brenda Baylor Butler of 15 years; sons, Eugene R. Butler (Deborah) of Mechanicsville, MD, Glenn A. Butler (Robert) of Port St. Lucie, FL, Donald H. Parker (Deborah) of Accokeek, MD, James D. Butler of Baltimore, MD, John O. Butler (Jackie) of Great Mills, MD, William K. Butler (Faye) of Great Mills, MD and Norbert Patrick Butler (Michelle) of Oxon Hill, MD; daughters, Avis M. Butler of Lexington Park, MD and Benita A. Butler of Lexington Park, MD; one step-daughter, Melissa "MeMe" Baylor of St. Inigoes, MD and a host of grandchildren, great grandchildren, great-great grandchildren, nieces, nephews, and friends. Albert also leaves to cherish his memories his siblings, Mary Carroll of Ridge, MD, Anita Birdine of Ridge, MD, Vernell Price (Lester) of Lexington Park, MD, Charlene Ferrell (Hayes) of Atlanta, GA and Agnes Crafton of Ridge, MD

Family and friends will unite on Friday, July 20, 2018 for visitation at 9 am until Mass of Christian Burial at 11 am at St. Peter Claver Catholic Church, 16922 St. Peter Claver Rd, St. Inigoes, MD. Interment to follow at St. Peter Claver Church cemetery. Arrangements by Briscoe-Tonic Funeral Home.