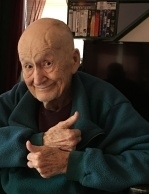 Joseph "Joe" Raymond Purcell, 82, of Lexington Park, MD passed away on July 10, 2018 in Leonardtown, MD. He was born on December 25, 1935 in Leonardtown, MD and was the son of the late Maude Alberta Raley Purcell and Charles Francis Purcell. Joe is survived by his siblings; Charles Purcell of Lexington Park, MD, Donald Purcell of Chicago, IL, Pat Perona of Chicago, IL, Peggy Purcell of Tampa, FL, Linda Superior of California, MD, Robert Purcell of Port Richey, FL, and 18 nieces and nephews. He was a lifelong St. Mary's County, MD resident.

Joe was known for his vivacious and friendly personality. Many referred to him as "Red". He was known for walking miles through Lexington Park, MD, visiting friends and businesses to chat, joke, and lift people up. Joe loved nothing more than a fierce game of pitch or poker with friends and family, and prided himself on his winnings! Having no children himself, he babysat in the community, advocated for children who had unmet needs, and helped support struggling families. Joe had a wicked sense of humor, with a perpetual smile on his face and song in his heart.

A Graveside Service will be held on Saturday, July 14, 2018 at 10:00 AM in Immaculate Heart of Mary Catholic Cemetery, Lexington Park, MD with Father Jose Rodriguez officiating. Pallbearers will be; Charles Purcell, Kirk Purcell, Scott Purcell, John Leskinen, Zakary Purcell, and Robbie Gilbert. Arrangements by Mattingley-Gardiner Funeral Home.