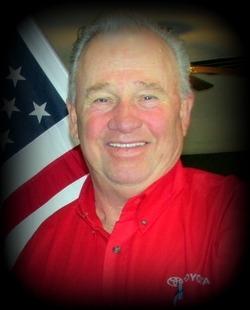 Leonard M. "Billy" Goddard, Jr. passed away peacefully on Thursday, July 5, 2018 at St. Mary's Nursing Center. He was born on August 12, 1945 in La Plata, Maryland to the late Bill and Margaret Goddard of Leonardtown, MD. Billy attended St. Mary's Academy, Father Andrew White, Leonard Hall Junior Naval Academy and graduated from the original Leonardtown High School in 1963.

In October, 1963 he enlisted in the U.S. Army and served his country until his honorable discharge in 1966. He worked at the Niki Missile Site in Waldorf, MD and the Naval Air Facility, Andrews AFB in Camp Springs, MD retiring in 2006. After retiring from the government, Billy worked for Nabisco and the Defense contractors CSC and PAE. He was an avid golfer at the Breton Bay Golf and Country Club for 35+ years serving on the Board of Directors and numerous committees. He was a devoted Red Sox and Redskins fan.

Billy is survived by his sons, Shawn P. Goddard of Leonardtown, MD, and Leonard M. "B-Bop" Goddard III (Jenny) of LaPlata, MD; grandchildren: Cassidy and Kaylen Goddard and Kiarra Tolbert; great grandchild: Devin Tolbert; sister, Judy Goddard Bakewell (Tom) of Leonardtown, MD; nephew, Christopher Raley (Jennifer) of Hollywood, MD; great nephews, Zach and Nick Raley and many extended family and friends. He was preceded in death by his parents.

Family will receive friends on Tuesday, July 10, 2018 from 5:00 to 8:00 p.m., at Brinsfield Funeral Home, 22955 Hollywood Road, Leonardtown, MD 20650. A Mass of Christian Burial will be celebrated by Reverend Robert Morrow on Wednesday, July 11, 2018 at 11:00 a.m., at St. Francis Xavier Catholic Church, 21370 Newtowne Neck Road, Leonardtown, MD. Interment will follow at St. Aloysius Catholic Cemetery, Leonardtown.

Serving as pallbearers will be Rich Pace, Tommy Jameson, Corey Jones, Mark Cusic, Bob Arnold, and Willie Watts. Honorary pallbearers will be Pat McWilliams, Andy McWilliams and the past and present members of the Breton Bay Golf & Country Club Golf Blitz. Memorial contributions may be made to the Benefit at The Bay for Billy Goddard, 21935 Society Hill Road, Leonardtown, MD 20650. Checks should be made payable to Breton Bay Golf & Country Club (C/O Billy Goddard). Arrangements by the Brinsfield Funeral Home, P.A.