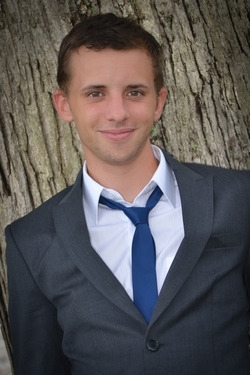 Alexander James "Alex" Franklin, 25, of Ridge, MD passed away on June 28, 2018. Alex was born on August 7, 1992 in Leonardtown, MD to Bruce Alexander Franklin of Dameron, MD and Mary Raley Franklin of Ridge, MD. Alex was born and raised in St. Mary's County. He is a graduate of St. Michael's Catholic School and a 2010 graduate of Great Mills High School. During his school years he played football, baseball and soccer.

Alex has always loved living on the water. His first job was when he was 14 years old at Point Lookout Marina where he developed a strong work ethic and was a great help to many of the boaters. He graduated from the Harry Lundeberg School of Seamanship in Piney Point, MD. As a Merchant Marine, Alex enjoyed his job at Reinauer working on the tugboat. He was techno-savvy and up on the latest electronics and was known as the in-house "IT" guy.

He loved all genres of music and was looking forward to the Moonrise Music Festival. He had a great ability to mix music and create playlists for his friends and family. Alex liked to cook, especially shrimp scampi, ribs, and cheese steak subs. He also enjoyed crabbing and kayaking. He enjoyed collecting Lego figures; his favorite Lego was Buzz Lightyear. He was always concerned for others and never met a stranger. He helped strangers without hesitation. He was a world traveler, touring Singapore, Japan, Israel, and Germany, and also travelling to his sister's wedding in Puerto Rico. Family was his greatest love and he loved all the time he spent with them.

In addition to his loving parents, Alex is also survived by his siblings: Kristen Gherardy (Juan) of Tucson, AZ, Chelsea Franklin of Annapolis, MD, and Zachary Franklin of Ridge, MD; his grandparents, James and Mary Raley of Ridge, MD and Mervin Alexander Franklin of Norfolk, VA; his nephew, Jakob Gherardy of Newark, NJ; and many extended family and friends. He was preceded in death by his grandmother, Mary Joan Franklin.

Family will receive friends for Alex's Life Celebration on Thursday, July 5, 2018 from 4:00 to 8:00 p.m., with prayers recited at 7:00 p.m., at St. Michael's Catholic Church, 16566 Three Notch Road, Ridge, MD 20680. A Mass of Christian Burial will be celebrated by Reverend Scott Woods on Friday, July 6, 2018 at 11:00 a.m. at St. Michael's Catholic Church, Ridge, MD. Interment will be private. Memorial contributions may be made to: Ridge Volunteer Rescue Squad, P.O. Box 456, Ridge, MD 20680. Ridge Volunteer Fire Department, P.O. Box 520, Ridge, MD 20680. To Write Love on Her Arms, Inc. P.O. Box 2203, Melbourne, FL 32902. Arrangements by the Brinsfield Funeral Home, P.A.