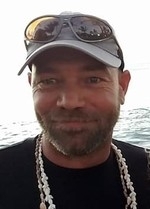 Richard Michael Boothe, known to everyone he's ever met as "Ricky," passed away suddenly on June 29, 2018 at the age of 43. He was born December 12, 1974 in Leonardtown, Maryland. He was a proud, lifelong St. Mary's County resident. He grew up alongside his brother and first cousins getting into all sorts of trouble.

He graduated from Leonardtown High School in 1992. In 1997, he met his wife, the love of his life, his soulmate, Kristin "Krisy" Michelle Watson-Boothe. They were married in Negril, Jamaica on December 2, 2006. Over twenty people got their St. Mary's County passports and traveled alongside of the happy couple to witness the beach side nuptials.

Ricky will always be remembered for his infectious smile that brightened every room he occupied. That "cat that ate the canary" grin of his kept everyone wondering what shenanigans he was up to. No matter what time of day, or what he was doing, Ricky put his family and friends first. He would step in to help anyone with anything whenever he was needed.

He leaves behind a host of family and friends to cherish his memory: his wife Kristin Watson-Boothe; his mother Edna Mae Boothe (Neal); his father Henry Richard Boothe (Lisa); his brother Kenneth "Kenny" Boothe (Michelle) and two nieces Lexi and Abby Boothe; Brother in Law Mikey Watson (Jodie) niece Alissa Bishop and nephew Wesley Peterson. He is also preceded in death by: Paternal Grandparents Henry Francis and Catherine Regina Boothe, Maternal Grandparents Walter Richard and Vivian Irene Barnes; as well as his Uncle Tommy Boothe.

He enjoyed being outdoors; he farmed the land he grew up on, hunted, crabbed, and fished at every opportunity. When the weather forced him to be inside, you could find him watching the Dallas Cowboys, wrestling, or NASCAR Racing. If you think Ricky's life was too good to be true, do as he would say and…
Google it!

The family will receive friends on Friday, July 6, 2018 from 5:00 PM-8:00 PM with prayers recited at 7:00 PM in the Mattingley-Gardiner Funeral Home Leonardtown, MD. A Funeral Service will be held on Saturday June 7, 2018 at 10:00 AM in the Funeral Home Chapel Leonardtown, MD with Deacon Ammon Ripple officiating. Interment will follow in St. George's Catholic Cemetery Valley Lee, MD. Pallbearers will be; Tommy Purcell, Kenny Shephard, Kenny Sebring, Tommy Boothe, Brian Boothe and Ron Verbos. Honorary Pallbearers will be; TJ Boothe, Kevin Boothe, John Blazer, Nathan Mundie, Brady Ridgell, Dan Robbins, Mike Bowles, and J.F. Stone. In lieu of flowers send donations to the University of Maryland Extension St. Mary's County – 4H Club, P.O. Box 663, Leonardtown, MD 20650.