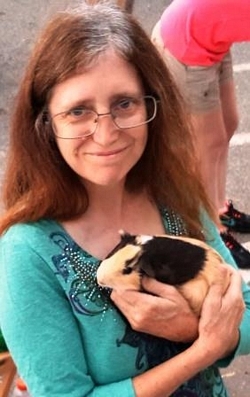 Cindy Lou Peters, 58, of Lexington Park, MD passed away on July 1, 2018 at MedStar St. Mary's Hospital. Born June 4, 1960 in Endicott, NY, she was the daughter of the late Edward C. Peters and Doris I. (Mudge) Peters. Cindy graduated from Mt. Vernon High School in Alexandria, VA in 1979 and attended the College of Southern Maryland. Cindy moved to St. Mary's County from Alexandria, VA in 1997.

She was a caregiver for the ARC of Southern Maryland. Cindy was a master gardener and loved working in the garden, quilting blankets, cooking, working with special needs people, and first and foremost, she loved the Lord Jesus Christ. She loved helping those who needed it and didn't ask for anything in return. She was a fighter till the very end battling cancer.

Cindy is survived by her boyfriend, Roland Durocher of Lexington Park, MD; her friend, Joe Schindler of Charlotte Hall, MD; and her siblings, Kathy Harrison (Andy) of Lusby, MD, Arthur Dorsett (Lena) of Clearwater, FL, Donald Dorsett (Martha) of Neptune City, NJ, and Scot Peters (Tina) of Lexington Park, MD. She was preceded in death by her brother, James Peters.

A Graveside Service will be conducted by Pastor George Jarboe of Land of Lights Church on Thursday, July 5, 2018 at 12:00 p.m. at St. Paul United Methodist Church Cemetery, 11000 H.G. Trueman Road, Lusby, MD 20657. A Life Celebration Service will follow at the St. Paul United Methodist Church Activity Center. Serving as pallbearers will be Grant Harrison, William Mudge, Sr., Donald Dorsett, Roland Durocher and Scot Peters. In lieu of flowers, memorial contributions may be made in Cindy's name to St. Mary's Hospice, P.O. Box 625, Leonardtown, MD 20650 or the Independent Cancer Research Foundation, P.O. Box 553, Orem, UT 84059. Arrangements by Rausch Funeral Home.