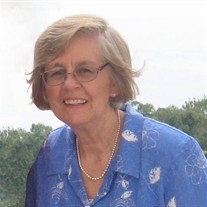 Ruth "Ellyn" Peed, 73, of Waldorf, MD passed away on July 2, 2018 at Charles County Hospice House after fighting brain cancer for six months. Ellyn was born on February 26, 1945 in Washington, DC to the late Samuel Alexander and Ruth Frances Garrett. She grew up in Suitland MD. She and her husband Larry married in 1969 bought a house in Waldorf where they lived together for 49 years. Ellyn is survived by her husband Lawrence "Larry" Peed; daughter Marsha Magnet and son in-law David; two grandchildren, Andrew and Abbey and two brothers Peter and George Garrett.

Ellyn worked as a bus transportation coordinator for the Charles County Board of Education, where she retired in 2013 after 27 years of service. She enjoyed sewing, researching genealogy with her daughter and spending time with her family and friends. She was an active member of First Baptist Church of Waldorf.

Visitation will be on Friday, July 6, 2018 from 10:00AM until time of service at 12:00PM at The First Baptist Church of Waldorf, 10045 Bunker Hill Road, Waldorf, MD 20603. Interment to follow at Trinity Memorial Gardens, Waldorf, MD. Memorial donations are requested to Hospice of Charles County, 2505 Davis Road, Waldorf, MD 20603. Arrangements by Raymond Funeral Service.