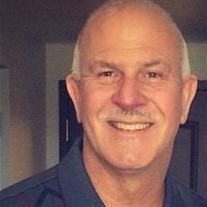 Jim Pette, 59 of La Plata, Maryland, passed on June 30, 2018. Jim was born in Long Beach, California. He moved with his family to Cherry Hill New Jersey in 1971 and graduated from Cherry Hill East High School in 1977. Jim graduated from UNCC in 1982 with a degree in Mechanical Engineering and began working for the Department of the Navy at the Philadelphia Naval Yard.

In 1985, he moved to Charles County, Maryland when he married his wife, Cathy, and continued to work for NavAir in Washington, DC until 1991. He then worked the rest of his federal career for the FAA. During his career at the FAA, he was a Deputy Program Manager, Business Manager, and Program Manager for various programs to include LLWAS and ASR-9/WSP systems and LRR SLEP systems. Jim was recognized by the FAA's COO, the NAS Defense Program Office, The DOD and DHS Joint Program Office for his dedication, leadership and resourcefulness as the LLR SLEP Program Manager.

Jim retired from the FAA in January 2017 and formed his own company to continue supporting various programs for the FAA, DOD, and DHS as the principal owner for CJK Services, LLC. Jim and his family were avid boaters and enjoyed many weekends and extended trips on the Chesapeake Bay on their Cruisers 43' "Nutty Jack". Jim loved the Philadelphia Eagles and Washington Capitals but his sports loyalty since 2012 has been with the University of South Carolina Gamecocks where his daughter Kristen graduated from college in 2016.

Jim accomplished his #1 goal in life, which was to "have a strong, happy family and to be a trusted, respected and valued friend, father, husband, son, brother and decent person." Jim was the son of Commander Donald C. and Phyllis Pette who are both laid to rest at Arlington National Cemetery.

He is survived by his wife, Cathy; daughter, Kristen; brother Don and his wife Cathy and their daughter and two sons; Jennifer, Bobby and Michael; brother, Bill and his wife Debbie and their two sons Greg and Geoff; four great nephews; father-in-law, John Dexter; sister-in-law, Vicki and her husband Kevin and their two daughters, Kelly and Katie.

Friends received on Saturday, July 7, 2018 from 11AM until time of Funeral Service at 1PM at Raymond Funeral Service Chapel, 5635 Washington Avenue, La Plata, Maryland 20646. In lieu of flowers, donations may be made in Jim's name to the Multiple Myeloma Research Foundation by visiting TheMMRF.org.