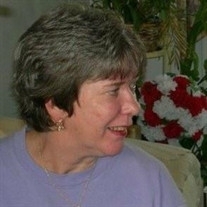 Patricia O'Donnell Wagner, 67, of Waldorf, Maryland, died on Friday, June 29, 2018 at her home. Born on July 27, 1950 in Washington, DC, she was the daughter of the late Rena Elsie Walls Fallin and Wayland Haley Fallin. Mrs. Wagner was an administrative assistant for the Department of Labor for many years. In her youth, she belonged to Job's Daughters. Mrs. Wagner was fondly known as the "Bee Lady of Waldorf", since she was a beekeeper and helped many people through Apitherapy. She was a member of the American Apitherapy Society, the Southern Maryland Beekeepers Association and authored a book titled "How Well Are You Willing To Bee".

In addition to her parents, Mrs. Wagner was preceded in death by her son Bryan Dale Wagner; brother William D. "Bill" Fallin. She is survived by her husband of 44 years, Raymond Dale Wagner; children Jessica Rae (Michael) McKay and Sean Patrick O'Donnell; grandchildren Rena Nicole White, Lauren Nicole Haden, Kyle Anthony O'Donnell, Christian Joseph O'Donnell, Haley Rae McKay, Kaytlin Marie McKay and James Dale McKay; great grandchild Bentley Cole Byrum; siblings Barbara (Dave) Miller, Wayne (Georgia) Fallin, Roger (Donna) Fallin, Creig (Juliette) Fallin.

A visitation will be held on Friday, July 6, 2018 from 6 PM to 8 PM and on Saturday July 7, 2018 from 10 AM until time for service to begin 11 AM at Trinity Baptist Church, 2671 Mattawoman-Beantown Road, Waldorf, Maryland 20601with the Reverend Dr. John H. Fariss officiating. Interment will be private. In lieu of flowers, memorial contributions may be made to Trinity Baptist Church.