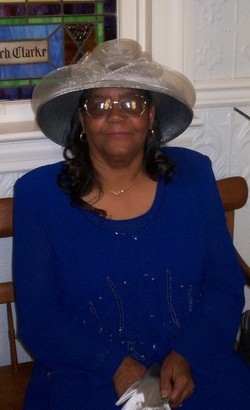 Lillian Davis Coston Murray was born in Teachey, North Carolina on February 8, 1935, to John Clarence Coston, Sr. and Myrtle Murphy Coston. She was the second of 11 children and also a twin to her brother John Clarence Coston Jr. Lillian received Jesus Christ as her personal savior at a young age and attended church regularly with her family. She was called home to eternal rest on June 28, 2018.

Lillian graduated from Charity High School in Wallace, North Carolina and went on to receive an Associates Degree in Human Services from the College of Southern Maryland in La Plata, Maryland. Lillian was married to the late William Paris Murray Sr., and from this union came 10 children together. She was blessed with one special child who was brought to her at the age of 18 months old. Lillian also welcomed all of her nieces and nephews into her home often taking care of them during different seasons in their lives. She was proud of all of her offspring and knew them all by name.

Lillian joined First Baptist Church of Carver Heights (currently First Missionary Baptist Church) in the 1960s, and was active in several ministries including the Willing Workers, Missionary and Hospitality. Her children enjoyed the many meetings that were held in her home because it meant delicious left over food that included her best recipes. Lillian had a great love for children, which was evident in her love for her grandchildren and the professions she chose in life. She worked at the Lexington Park Daycare Center, teaching and mentoring young children, and later went on to work at the Maryland Department of Social Services providing assistance to hundreds of displaced children by teaching basic life skills, stability and independence. Lillian believed in family preservation and her work led to many children being reunited with their families.

Lillian was preceded in death by husband William P Murray Sr., her father John Clarence Coston Sr., her mother Myrtle Murphy Coston, her sisters Helen Murray and Gloria Jacobs; her brother Arnold Coston; her brother-in-laws Roy Murray and Malcolm Treadwell Sr., her sister-in-law Carrie Coston, her mother-in-law Sue B. Murray, and her grandson Antonio Hurt. Her daughter, Rozellia Hurt passed two days after her death.

Lillian leaves to cherish her memory: four daughters Barbara Spencer, Marie Angela Caesar (Randy), Rhonda Shade (Donnie) and Kendra Robinson; six sons William P. Murray, Jr., Durwood Murray (Cynthia), Russell Murray, Sr. (Loretta), Sheldon Murray (Regenia), Dennis Murray (Cathy), and Michael Murray; brothers John Coston Jr. (Jean), Kenneth Coston, Eugene Coston, and Edward Coston; sisters Marie Treadwell, Jessie Reaves (Morris), and Edna Byrd (Frank); brother-in-law Hezekiah Jacobs, sister-in-law Sharlise Coston, one lifetime friend Esther Herring; 30 grand children, 46 great grand children, 3 great-great grand children; and a host of other relatives and friends. We as a family celebrate her life, her love, and her legacy for which she was abundantly blessed.

Family will receive friends for a Visitation on Saturday, July 7, 2018 from 10:00 to 11:00 a.m. at First Missionary Baptist Church, 46370 Pegglane, Lexington Park, MD 20653. A Funeral Service will be held at 11:00 a.m. by Reverend Roderick W. McClanahan. Interment will follow at First Missionary Baptist Church Cemetery, 20880 Hermanville Road, Lexington Park, MD 20653. Arrangements by the Brinsfield Funeral Home, P.A., Leonardtown, MD.