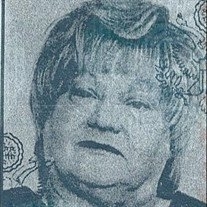 Stephanie Marie Marsala, age 75, of Waldorf, Maryland, died June 28, 2018 at her residence. Stephanie was an Accounting & Finance Clerk as well as a secretary with elementary schools with the United States Air Force (U.S. Government) for 20 plus years. She was a care-taker for her husband and her father. She loved cooking, cake decorating, and arts & crafts.

She was the daughter of Salvatore Patti and Josephine Cardella Patti. In addition to her parents, she was also predeceased by her husband, Kenneth J. Marsala. She is survived by her sons, Kenneth J. Marsala, Jr. and Michael S. Marsala and her grandchildren, Claire, Audrey, Mason, and Sophia.

Burial will be at Arlington National Cemetery at a later date. Memorial contributions in Stephanie's name are asked to St. Peter's Catholic Church, 3320 St. Peter's Drive, Waldorf, Maryland 20601. Arrangements by Raymond Funeral Service.