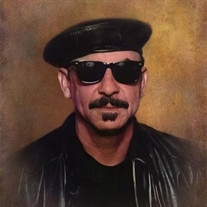 Paul "Bubba" Swann Jr., age 77, of Waldorf, Maryland, died June 23, 2018 at Genesis La Plata Center. Bubba was a self-employed auto mechanic for 50 plus years and a member of St. Ignatius Church Chapel Point, Maryland. He loved hunting, family gatherings, fast cars, and was a woman lover. He was always working with his hands on many things, he could fix anything and everything.

He was the son of Paul Swann Sr. and Theresa Thompson Swann. In addition to his parents, he was also predeceased by his wife, Margaret E. Washington Swann; his sons, Stevie Lancaster and Paul Anthony Swann; and his brothers, Michael and Johnny Swann. He is survived by his past spouse, Mary Gloria Lancaster Swann; his sons, Paul Swann, and Jody Thompson; his daughters, Joan Swann Williams (Jermaine), Paulette Swann, Doris Ann Swann, and Margaret L. Swann; his brothers, Gregory and Ricky Swann; and his sisters, Betty, Louise, Dolores, Audrey, Caroline, and Shirley. He is also survived by numerous grandchildren, great-grandchildren, nieces, nephews, and special thanks to Pamela Lancaster for all of her help.

Friends received on Thursday, July 5, 2018 from 9:30AM until Mass of Christian Burial at 11AM at St. Ignatius Church Chapel Point, 8855 Chapel Point Road, Port Tobacco, Maryland 20677. Interment to follow in the church cemetery. Arrangements by Raymond Funeral Service.