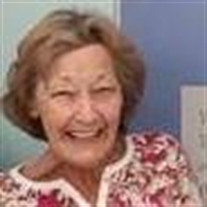 Betty Helen Jewett, age 69, of Waldorf, Maryland, died June 27, 2018 at her home with Hospice. She was the daughter of Robert Filmore Brown and Helen Clementine Bryant Brown. In addition to her parents, she was also predeceased by her husband, Robert Allen Jewett. She is survived by her sons, Charles E. Jewett (Suwitcha) and Douglas A. Jewett; her granddaughter, Elizabeth M. Jewett; her brother, Robert F. Brown, Jr. (Ann); and her sister, Nancy A. Everson.

Betty was a Negative Engraver for 32 years of service, retiring from the Department of Commerce (U.S. Government). She was a member of Providence United Methodist Church in Montross, Virginia and was a volunteer with the local Geneology Society in connection with the Church of Latter Day Saints in Charles County, Maryland. She also volunteered as a Den Mother with the Cub Scouts and Boy Scouts. She was a long-time member of the Daughters of the American Revolution and the Eastern Star. She enjoyed sewing and her dogs.

Friends received on Friday, July 6, 2018 from 5-8PM with Remembrances at 7PM at Raymond Funeral Service Chapel, 5635 Washington Avenue, La Plata, Maryland 20646. Funeral Service on Saturday, July 7, 2018 at 1PM at Providence United Methodist Church, 5417 Stratford Hall Road, Montross, Virginia 22520. Interment to follow in the church cemetery. Memorials in Betty's name are asked to St. Jude Children's Research Hospital or American Cancer Society.