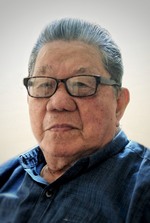 Alfonso Neri Jimena "Ponsing", 89, of Lexington Park, MD passed away on June 22, 2018 in Callaway, MD. Born on August 6, 1928 in Iloilo City, Philippines, he was the son of the late Anastacia Aloro Jimena and Miguel Jimena. Ponsing was the loving husband of Francisca M. Jimena. Ponsing graduated from Provincial High School in 1949 and De Paul College in 1960. He was employed as a Police Sergeant for the National Police Commission for 27 years, retiring in 1984.

He is survived by his children: Ma-Elena Jimena of Lexington Park, MD, Ma-Theresa Jimena of the Philippines, Maria Williams of California, MD, Ma-Magdalena Jimena of Lexington Park, MD, Nena J. Ahned of Niles , MI, June Jimena of Lexington Park, MD, Sammy Jimena of Los Angeles, CA and Ferdinand Jimena of Lexington Park, MD. 18 Grandchildren and 1 great-grandchild. Ponsing is preceded in death by his children: Lucio Jimena and Alforsito Jimena.

The family will receive friends on Monday, July 2, 2018 from 11:00 AM12:00 PM at Immaculate Heart of Mary Catholic Church Lexington Park, MD, where a Mass of Christian Burial will be celebrated at 12:00 PM with Father Marco Schad officiating. Interment will follow in the Church Cemetery. The Pallbearers will be: June Jimena, Desam Stewart, John-Lenie Jimena, Ferdinand Jimena, John-Alfons Jimena and John-Paul Jimena. Honorary Pallbearers will be: Karl Williams, Maria-Magdalena Jimena, Maria-Elena Jimena, Maria Williams, Ma-Nena Ahmed and Francisca Jimena. Arrangements by Mattingley-Gardiner Funeral Home.