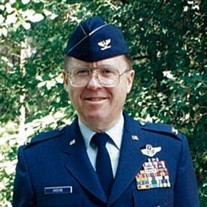 Raymond "Ray" Edward Greene, 76, of La Plata, Maryland, died June 24, 2018. Ray was born in Jamaica, Long Island, New York. He was the son of Frank and Florance Greene. He is survived by his wife, Katherine Greene; his son, Jeffery Greene; his step-son, Steven Sloat (Courtney); his daughter, Barbara Greene; his step-daughter, Lisa Martin (Marty); his sisters, Barbara Sutton (Ed) and Eleanor Manfer (Bob); and his grandchildren, Ally, Leia, and Matthew.

He graduated from Frank Carey High School in Franklin Square New York and then graduated from Tusculum College in Tennessee. After college, he entered the United States Air Force and served his country until his honorable discharge at the rank of Colonel on September 18, 1992 He served in the Vietnam conflict from 1970 to 1973, flying over 270+ missions as an Electronic Warfare Office in the F105 two-seater. He continued his career as a United Nations Attache assigned in Syria and Israel, Systems Command Officer, Intelligence, Program Engineer completing his service as Intelligence Director on the J Staff in the Pentagon. After service, he worked in the jewelry business which he thoroughly enjoyed. Ray loved painting, country western music (especially Willie Nelson and the Boys), and gardening. He also enjoyed outer space themed movies.

Friends received on Saturday, June 30, 2018 from 10AM until Mass time at 11AM at St. Joseph's Catholic Church, 4590 St. Joseph Way, Pomfret, Maryland 20675. Interment at a later date in Arlington National Cemetery. Memorial contributions in Ray's name are asked to the Charlotte Hall Veterans Home, 29449 Charlotte Hall Road, Charlotte Hall, Maryland 20622. Arrangements by Raymond Funeral Service.