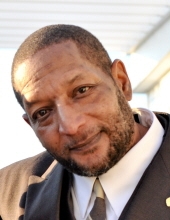 Vincent McWilliams Swales, Jr. (aka "Little Junior" and "Dickey Boy") of Baltimore, died unexpectedly but peacefully at Sinai Hospital in Baltimore, Maryland on June 15, 2018 at the age of 55. Vincent was born in Leonardtown, MD to Mack and Irene Swales on October 23, 1962. He grew into manhood on McIntosh Road and graduated from Leonardtown High School. Vincent met and married his beloved wife, Pamella Baker, who he teasingly called "the Chosen One, on May 29, 1999 in Baltimore, MD.

Throughout his life he worked at a variety of jobs including as a carpenter in St. Mary's County and at Pella Windows and Doors. In addition, he worked at Aerotek, as an Auto CAD Operator. His final career as a Design Engineer for Phoenix Engineering, where he worked for the last 15 years.

He was a devoted son, husband, father, grandfather, brother, uncle, cousin and friend. Vincent had a lifelong love of baseball, much like his father. For 20 years he battled renal kidney failure. Vincent was a veteran of life and served faithfully in the Army of the Lord and has now been awarded his golden crown and a long white robe.

Vincent is survived by his mother, Hester Irene Swales, of Leonardtown, MD, wife Pamella Baker- Swales, daughter Tarisha Swales, granddaughter Deidre Price, step-son Christopher Kent, of Baltimore, MD., sisters Evelyn Holland, Hollywood, MD, Cheryl White (Conrad), Prince Frederick, MD, Gertrude Thomas (Victor), Leonardtown, MD, brother William Francis Swales (Bess), Baltimore, MD , In-laws Junius Mac Baker (Valencia), Gwendolyn McClary (Nathaniel), Lydia Seibles (Uly), Linda Burnett (Charles) and Michael Baker, as well as a host of nieces, nephews, cousins, relatives and friends. He was preceded in death by his brother in-law Melvin Holland and his father Vincent McWilliams Swales, Sr. (Mr. Mack).

Services were held on Friday, June 22, 2018 at Zion Hill Church of God in Christ, 12450 H. G. Trueman Road, Lusby, Maryland. Interment followed in the church cemetery. Rev. John Butler, a life long friend, was the officiant. Arrangements were entrusted to Sewell Funeral Home, Prince Frederick, Maryland.