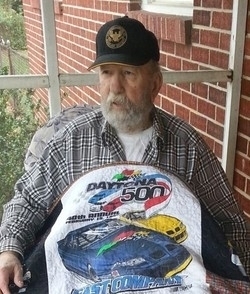 Raymond Alvey Davis, Sr., 82, of Leonardtown, MD passed away on June 18, 2018 at Genesis Healthcare in Frederick, MD. He was born in Washington, D.C., on November 27, 1935 to the late Lloyd Davis and Mae Quade Davis. On September 22, 1957 Raymond married his beloved wife, Anna Marie Davis. Together they celebrated 49 wonderful years of marriage, until her passing in January 2006.

He was employed until his retirement as an auto mechanic. He was a huge Nascar fan and never missed a race. He was an avid reader and enjoyed reading the newspaper cover to cover on a daily basis. He was meticulous, organized, and resourceful. He didn't like things to be wasted and often refurbished and repurposed things that others would have discarded. He enjoyed gardening, especially growing tomatoes which Anna always canned. He also enjoyed playing pool, his "Bejeweled" computer game and tinkering in his shed. He loved spending time with his family and grandchildren.

Raymond is survived by his children: Mary Stone (Micky) of Front Royal, VA, Christine Dolaway (Robert) of Brunswick, MD, Janet Flynn (Ken) of Mount Airy, MD, Raymond Davis, Jr. (Ruth) of Westminster, MD, David Davis and James Davis, both of Courtland, OH; 11 grandchildren and 2 great grandchildren. In addition to his parents and beloved wife, he is also preceded in death by his siblings: Lois Goodman, Lloyd Davis, Mary Allenbaugh, and Tom Davis; and his grandson, Michael Stone.

Family will receive friends on Friday, June 22, 2018 from 12:00 to 1:00 p.m., with a Funeral Service celebrated by Reverend Paul Nguyen at 1:00 p.m., at Brinsfield Funeral Home, P.A., 22955 Hollywood Road, Leonardtown, MD 20650. Interment will follow at St. George's Catholic Church in Valley Lee, MD. In lieu of flowers, Memorial contributions may be made to Valley Lee Volunteer Rescue Squad, P.O. Box 1, Valley Lee, MD 20692. Arrangements by the Brinsfield Funeral Home, P.A.