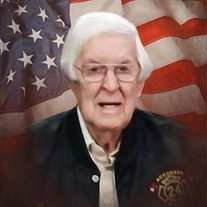 Harry Raymond Ritter, Jr. 93 of Waldorf, Maryland (formerly Accokeek, Maryland), died on June 15, 2018 at the Charles County Hospice House. Born on July 17, 1924 in Takoma Park, Maryland, he was the son of the late Harry R. Ritter and the late Grace Mae Payne. He was a veteran of the United States Army, having served during World War II and was a recipient of the Bronze Star. He was a self-employed brick layer and an instructor of trowel trades at the Charles County Vocational Technical Center. He was a lifetime member of Accokeek Volunteer Fire Department.

In addition to his parents, Mr. Ritter was preceded in death by his wife of 72 years, Audrey L. Pickeral Ritter. He is survived by his five children: Mary (Kay) Kane (Donald), Faye Green (Greg), Harry (Ray) Ritter, III (Beverly), Patricia Gaye Ritter, and Deneen (DeeJay) Hensley. He also is survived by nine grandchildren, 18 great grandchildren, two great great grandchildren and brothers, John Irvine Ritter and Thomas Ritter.

Visitation will be on Wednesday, June 27, 2018, from 2PM to 4PM and 6PM to 8PM at the Accokeek Volunteer Fire Department. Funeral is Thursday, June 28, 2018 at 11:00AM with Burial at Trinity Memorial. Memorial contributions may be made to Accokeek Volunteer Fire Department, PO Box 226, Accokeek, MD 20607. Arrangements by Raymond Funeral Service.