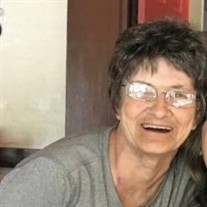 Nancy Lee Overby-Walker, 70, of Waldorf, MD passed away on June 15, 2018 at her residence.
Nancy was born on April 19, 1948 in Williamsburg, VA to the late Lawrence and Ruby Overby. Nancy was a warehouse manager for Tasco Company. She loved her family and enjoyed spending time with her grand and great-grandchildren. She was a very giving and simplistic lady who was affectionately known as the neighborhood mom, always taking care of everyone.

Nancy was survived by three sons, William McFetridge, Jr. (Deborah), Clifford McFetridge and Thomas Walker; two daughters, Amanda Warden (James) and Tanyau Warden (Ronald); 11 grandchildren; three great-grandchildren; two brothers, James Overby and Lawrence Overby, Jr. and four sister, Joan Overby, Gwen Monroe (Elbert), Mary Jane Robison (Al) and Marilyn Bouse (Michael).

Visitation will be on Tuesday, June 19, 2018 at Fellowship Church, 9805 Faith Baptist Church Road, White Plains, MD 20695 from 2:00-4:00PM and from 6:00-8:00PM where a service will be held at 7:00PM. Interment will be on Wednesday, June 20, 2018 at 12:00PM at Pisgah Baptist Church Cemetery, 202 Pisgah Church Road, Rice, VA 23966. Memorial contributions are requested to Safe Nights Homeless Program C/O Lifestyles of Maryland, 101 Catalpa Drive, Ste 103, La Plata, MD 20646. Arrangements by Raymond Funeral Service.