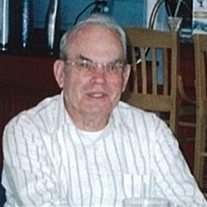 Wilson Leon Herbert, 80, of Port Tobacco, died on June 11, 2018. Born on October 5, 1937 in Mechanicsville to Joseph Alton Herbert and Bessie Buckler Herbert. He was a lifelong farmer.

In addition to his parents, he was also preceded in death by all 10 of his brothers and sisters to include Mary Buckler, Howard Herbert, Catherine Farrell, Charlie Herbert, Isabell McAllister, Albert Herbert, Viola Stonestreet, Wilmer Herbert, James Herbert, and Evelyn Latham.

He is survived by his wife of 61 years, Martha Ann; and his children, Albert Herbert, Cathy "Sissy" Grimm (Michael), Carol Pyles (Steve), Brenda Brown (late Ray), Boh Herbert (Denise), and Nancy Gragan (Tom). He is also survived by 14 grandchildren, 22 great grandchildren, and one great-great grandchild.

Friends received on Friday, June 15, 2018 from 5-8PM with a prayer service at 7PM at Raymond Funeral Chapel (La Plata). Mass of Christian Burial on Saturday, June 16, 2018 at 11:00AM at Sacred Heart Church (La Plata) followed by interment at Trinity Memorial Gardens. Donations in Wilson's name can be made to the Charles County Humane Society in honor of his love of all living creatures.