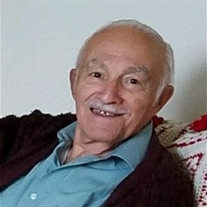 Joseph "Joe" Titino Santaiti, 84, passed peacefully on Sunday, June 10, 2018. He was born in South East Washington, D.C., the son of the late Annunziato and Rosa. He was the brother of the late Mimi, Terri and Billy. Joe is survived by his wife Loretta, step-son George, brother Ben, sister Rosie, children Brad, Trena and Kim from his first wife, the late Sherry.

After serving as corporal in the US Army, Joe went on to work in the world of background sound and voice security, growing a flourishing and respected business of his own. His love of the beach kept him a happy resident of southern Maryland, where he retired to pursue his favorite hobby, enjoying his six grandchildren.

Joe was a proud father, uncle, grandfather and loving husband. He lived to encourage and support his family in every way. Living to laugh, he taught us how to find happiness, grow and strengthen our family ties, encouraging us to also bring our families closer to God, so we may all be together again in heaven, on the last day.

Family and friends are welcome at Lee Funeral Home Calvert, 8200 Jennifer Lane, Owings, MD 20736, on Wednesday, June 13 from 6 to 8 pm; where Funeral Services will be held on Thursday, June 14 at 12 noon. Internment will follow at Resurrection Cemetery, 8000 Woodyard Road, Clinton, MD 20735.