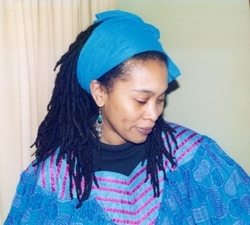 Nyanda Dutch-Malik (neé Beverly Boyer), beloved wife, mother, sister, cousin and friend to many, passed peacefully on June 4, 2018 in La Plata, Maryland at the age of 62. She was born in Bryans Road, Maryland on December 15, 1955, the second eldest of five children born to the late Phelicia Clark Boyer and Ralph Boyer.

She was the thespian of the family, and began dancing, singing and acting at an early age. She loved musicals and wasn't afraid to sing her heart out, whether she was on stage or in the living room using an extension cord as a microphone. Nyanda will be remembered most for her big heart, deep dimples and that beautiful smile.

Nyanda received her education in the Charles County Public Schools system, graduating from Lackey High School in 1973. Early in her career, she worked as a teller at Citizen's Bank, where she met the love of her life Tsaka Dutch-Malik (neé Michael Dutch). They dated for many years, married in an intimate family ceremony at her grandmother Elnora Clark's home in 1990, and enjoyed more than 34 years together.

Nyanda worked at numerous jobs before she found her true passion, working with children. In 1994, she became a licensed child care provider and opened Vietta Day Care. Nyanda always said, "I Love My Job!!! I couldn't imagine a better way to spend my days." She was dedicated to providing quality care, education and fun, and shared her love of performing with "her kids," regularly hosting animated performances, plays and graduation programs for their families. She furthered her studies in early childhood education at the College of Southern Maryland so that she could train other Early Childhood Teachers on how to give their best in providing a nurturing and stimulating environment for young children.

Most importantly in her life, Nyanda was committed to Christ in her worship, witness, and work. At an early age she attended and joined Metropolitan United Methodist Church in Pomonkey, Maryland. It was there she cultivated her love for singing, first in the Youth Choir and later in the Gospel Choir. Nyanda continued her spiritual journey at Union Bethel AME Church in Brandywine, Maryland, where she was a faithful member until her passing.

With the blessings of God and the support of her church family, Nyanda worked alongside her husband Tsaka to lead the Community Outreach Ministry. She enjoyed assisting those in need, distributing food at the monthly Outreach Food Pantry, serving meals at the Fuller House Transitional Home, coordinating the Annual Christmas Fellowship for seniors, children and their families, participating in Operation Christmas Child, and hosting homeless individuals and families through "Warm Nights." She also loved singing with Total Faith, spreading the Gospel through acapella praise.

She was preceded in death by her parents, stepdaughter Nicole Dutch, and brother Bernard Boyer, and leaves to cherish her memories, devoted husband Tsaka Dutch-Malik; son Johnny Rossettos, Jr.; daughter Sara Lawler; siblings, Gregory (Dana) Boyer, Clark Boyer, Lucretia Boyer (William Evans); brothers-in-law, Bruce T. Dutch and Eric J. Dutch; sister-in-law Karen (Donald) Sumner; nephews, Julian Boyer Glass and Adrian Boyer; nieces, Amanda Boyer, Aja Boyer and Elizabeth Hyde; aunts, Elvira Langford, Winifred Sechrest, Willa Mae (Everett) Parker, Edna Clark and Sara Rembert; and a host of cousins, other family and friends. Arrangements by Rausch Funeral Home.