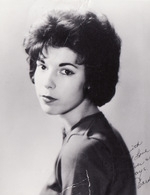 Carol Ann Morgan, 75, of Mechanicsville, MD passed away on June 5, 2018 at her home surrounded by her loving family. Born on April 13, 1943 she was the daughter of the late Mildred Louise Campbell Economides and Thomas John Economides. Carol was the loving wife of Joseph Ambrose Morgan whom she married on May 8, 1997 in Leonardtown, MD.

She is survived by her daughter Dawn Demore Bell (Danny) of Leonardtown, MD and her step-daughter Margie M. Benfield of Mechanicsville, MD. 5 Grandchildren. Siblings: Catherine Finotti, Michael Economides, John Handy and Judi Lee. Carol is preceded in death by her son Michael R. Leonetti, and her siblings Ruth Economides and Johnnie Economides.

Carol graduated from Groveton High School, Alexandria VA in 1961. . Carol moved from Suitland, MD to St. Mary's County MD in 1970. In 1976 she received a CMA Certification from Bryman Medics School. She was employed as a Lab Assistant-Phlebotomist for Meth-Path Labs, Inc. for 15 years, retiring in 1988. Carol enjoyed entertaining family, gardening, cooking, sewing, fishing, painting, music, reading, puzzles, and spending time at her lake house.

The family will receive friends on Tuesday, June 12, 2018 from 9:00-11:00 AM in the Mattingley-Gardiner Funeral Home, Leonardtown, MD. Where a Funeral Service will be held at 11:00 AM in the Funeral Home Chapel. Interment will follow in Charles Memorial Gardens Leonardtown, MD. Pallbearers will be: Jeffrey "Michael" Green, Amber L. Hubenschmidt, Savanna Benfield and Steven Hubenschmidt. In lieu of flowers, donations may be made to Hospice of St. Mary's P.O. Box 625 Leonardtown, MD 20650.