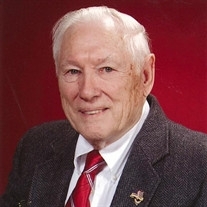 Cecil Junior Pasini, age 90, of La Plata, Maryland, died June 5, 2018 at the University of Maryland Charles Regional Medical Center in La Plata, Maryland. He is the son of Gioachimo "Joe" Pasini and Clara B. Mercer Pasini. In addition to his parents, he was also predeceased by nine brothers and three sisters. He is survived by his wife of 56 years, Ann Edwards Pasini; his son, Philip E. Pasini (Lisa); his daughter, Rebecca A. Pasini (Langdon Healy); and his grandchildren, Victoria, Paul, Taylor, Erin, Anne, and Robert.

Cecil joined the Navy in 1944 and then transferred to the Air Force where he served all over the world, retiring after 24 years (in 1969) as a Master Sgt. Then he went on to work for the Civil Service for the United States Army, retiring in 1991. He was married in 1962 in London. He was a graduate of California Poly Technical University with a degree in Business Management. He was a member of the First Baptist Church of La Plata, an avid fisherman, walker, and traveler. He most enjoyed being a grandfather.

Burial service on Monday, June 11, 2018 at 11AM at Oakland Baptist Church Cemetery, 28348 Eleys-Ford Road, Richardsville, Virginia 22736. Memorials are asked to Walter Reed Fisher House, 12300 Twinbrook Parkway, Suite 410, Rockville, Maryland 20852. Arrangements by Raymond Funeral Service.