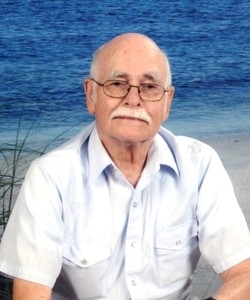 Francis Charles "Pops" Kuhn, 89, of California, MD passed away May 31, 2018 at his home surrounded by his loving family. He was born on May 26, 1929 in Leavenworth, KS to the late Earl Francis Kuehn and Beatrice Carol Evans. Pops graduated from Central High School in Kansas City, MO. In 1949 he enlisted in the U.S. Army and proudly served his country until his honorable discharge in 1955. On June 12, 1950 he married his beloved wife, Marjorie J. Kuhn in Kansas City. Together they celebrated over 44 wonderful years of marriage before her passing in February 1995.

He was employed for many years by Texas Instruments as a Machinist until his retirement in 1991. He enjoyed creating and building beautiful wood furniture. He also like to spend time with his family camping, especially to Lake Texoma and the Ozarks. His other hobbies included fishing, cheering on the Dallas Cowboys, and listening to country music. He was an avid traveler and spent much of his retirement travelling with the Lions Club.

He was a member of the Lions International for over 50 years. He dedicated much of his time volunteering with them. He also enjoyed travelling with them, taking trips every year, which included trips to China, Japan. He also took cruises to the Caribbean and the Panama Canal. He especially enjoyed spending time with his family.

Pops is survived by his daughters, June Mosterd (Lynn) of California, MD and Gayle Corris of Ferndale, WA; 7 grandchildren and 9 great grandchildren. In addition to his parents and wife, he is also preceded in death by his children: Alerta Kuhn, Luberta Kuhn and Frank Kuhn; and his brothers, Edwin Kuhn and Robert Kuhn.

Family will receive friends on Tuesday, June 12, 2018 from 2:00 to 4:00 p.m., with a Memorial Service celebrated at 4:00 p.m., at Brinsfield Funeral Home, P.A., 22955 Hollywood Road, Leonardtown, MD 20650. Interment will be held at a later date. Memorial contributions may be made to Hospice House of St. Mary's, P.O. Box 625, Leonardtown, MD 20650. Arrangements by the Brinsfield Funeral Home, P.A.