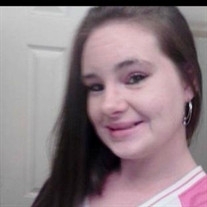 Heather Anne Dinges, age 29 of Bryantown, Maryland, died May 29, 2018. She was born April 18, 1989 in La Plata, Maryland to the late Jeffery N. Dinges and Sandra (Summers) Hungerford. Heather loved her family more than anything and always had a smile. She loved her "Pop" and Grandma very much, they were very special to her. She also loved elderly people and had a very loving heart for all. She enjoyed music and shopping and loved animals. She had a huge heart and will be missed by her family and friends.

She was predeceased by her father, Jeff and her paternal grandmother, Leila Dinges Craig. She is survived by her mother, Sandra E. and Samuel E. Hungerford, III (Dad) of Bryantown, Maryland; her grandparents, George Edward and Doris Anne Summers (who also helped with raising Heather) of Waldorf, Maryland and Harold and Peggy Dinges of Missouri; and her step-grandmother; Evelyn Hungerford of Calvert County, Maryland. She is also survived by many aunts, uncles, and cousins.

Friends received on Thursday, June 7, 2018 from 10AM until time of Funeral Service at 12PM at Raymond Funeral Service Chapel, 5635 Washington Avenue, La Plata, Maryland 20646. Interment to follow at Trinity Memorial Gardens, 3221 Mattawoman-Beantown Road, Waldorf, Maryland 20601. Memorial contributions in Heather's name may be sent to Go Fund Me.