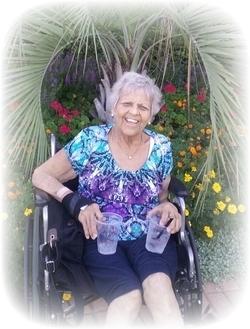 Janice Jean Vaillancourt, 73, of Leonardtown, MD (formerly of Virginia Beach, VA and Fall River, MA) gained her wings Monday, May 28, 2018 at her home surrounded by her loving family. She was born on December 6, 1944 in Freetown, MA to the late Louis & Stanislaw Kaminski. Janice held a Bachelor of Science in Accounting and provided professional bookkeeping and accounting services to businesses in a variety of industries.

She was a single mother of three children, who loved and appreciated her strength, courage and resilience. She was an advocate and practitioner of holistic healing. She loved to cook and showed her appreciation for others by preparing delicious dishes, such as traditional Polish food, homemade candy, and sharing time around her dinner table. One of her favorite late night treats was pancakes and bacon at IHOP.

Janice loved music, and was especially fond of John Denver, Lou Rawls and Santana. She had a passion for gardening and grew beautiful flowers, including her favorite, the purple iris. She enjoyed spending time at the beach basking in the warm sunshine, reading a stimulating book, learning something new and exploring interesting places. She had a wonderful sense of humor and appreciated the lighter side of life despite her many health challenges. She also loved spending time with her family, especially her two grandchildren and her beloved cat, Gabby. She appreciated every day and was thankful for the love and laughter that filled her life.

Janice is survived by her daughters, Lisa LeaSure (husband JD LeaSure) of Virginia Beach, VA and Wendy Hendrix of Clements, MD; her brothers, Sylvester Kaminski (Redfox, KY) and Steve Kaminski of North Attleboro, NY; her grandchildren, Dustin Hendrix and Larissa Carmine; and a cherished family friend, Tait Znuj. In addition to her parents, she is also preceded in death by her beloved son, Jay Vaillancourt.

All services will be private. In lieu of flowers, donations may be made to the National Kidney Foundation. Arrangements by the Brinsfield Funeral Home, P.A.