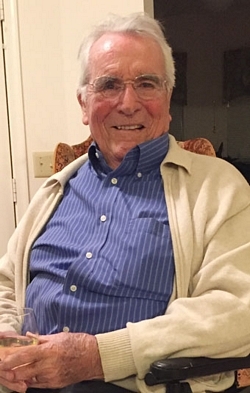 Longtime Calvert County resident and civic leader John (Jack) Stewart Andrews died peacefully at home at Asbury Retirement Community in Solomons on Sunday May 27, 2018. Marie, Jack's loving wife of 74 years, was by his side. He was 98.

Known throughout his life for his quick smile, wide-ranging intellect, and warm compassion, Jack was born in Salem, Ohio in 1919. He enlisted in the U.S. Army Air Corps in 1940. During World War II Jack was promoted to PFC, First Sergeant and Second Lieutenant. He served in Australia - where he met and married Marie as well as in New Guinea and the Philippines.

Jack returned to Ohio in 1946 with Marie and their first child, John Michael Andrews. Over the course of a 25-year retail career Jack rose to become Executive Vice President at Rike's department store in Dayton, and President at Shillito's in Cincinnati. In his mid-50s Jack realized a lifelong goal by earning his B.A. at Goddard College in Plainfield, Vermont. He was subsequently appointed President of Goddard.

Jack traveled extensively across North Africa, the Middle East, Asia and the Pacific as Peace Corps Regional Director in the late 1970s. Jack and Marie purchased their Long Beach home overlooking the Chesapeake 42 years ago. When they left Australia for Ohio Jack promised his wife they would live on the water again someday. It took three decades - but Jack kept his word to his Aussie war bride. They enjoyed their lovely Long Beach home for 30 years, hosting their children and grandchildren there, and sailing their 22' Catalina on the Bay, before moving to Asbury in 2006.

Jack was an Elder in the Presbyterian U.S.A. church, and a member and later President of the Administrative Board of Trinity United Methodist Church. He also served for many years on the Long Beach/Calvert Beach Water Board.

Jack's last professional position was as Vice President for Administration at St. Mary's College of Maryland from 1979-1984. After 'retiring', Jack volunteered for 25 years with the Service Corps of Retired Executives, counseling Southern Maryland business owners as a member of the Annapolis chapter, serving as Director of the Mid-Atlantic Region, and as Secretary on SCORE's national board.

Jack always loved to travel, with a particular fondness for the Pacific, the Rockies and the American Southwest. He and Marie circled the world thrice, and roamed widely across America and Canada in their camper van.

At the end of his 2016 memoir A Life's Passage, Jack wrote, "Through it all, I have said I believe the two most important words in the English language are 'wife' and 'family'. I have tried to live my life true to that belief. If I have done that successfully that is my greatest legacy." His wife, and his family, know how completely Jack succeeded in the effort.
In addition to 6 grandchildren and 7 great-grandchildren, Jack's immediate survivors include: wife Marie Louise; son William Douglas (Chicago); son Jeffrey Lynn (Maui, Hawaii); daughter Kathleen Margaret (Montpelier, Vermont); son Richard Dale (Colorado and Florida). Son John Michael, a helicopter pilot, was killed in Vietnam in 1967.

A Celebration of Jack's life, followed by reception, will take place Sunday, June 10 at 3.00 pm at Asbury Retirement Community in Solomons. Memorial contributions may be made to either: Calvert Hospice or Calvert Collaborative for Children & Youth. Arrangements by Rausch Funeral Home.