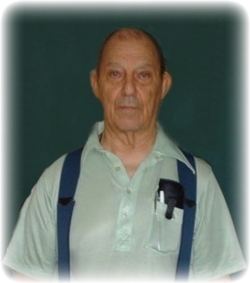 Joseph Anthony "Joe" Souders, 86, of Leonardtown, MD passed away on May 29, 2018 at St. Mary's Nursing Center. He was born on June 8, 1931 in Washington, D.C. to the late William E. Souders and Susan Baily Souders.

In February 1952 Joe enlisted in the United States Army and served his country in the Korean War until his honorable discharge in November 1953 as a Sergeant. After leaving the Army he worked for the Seat Pleasant Town government and also had an antennae installation company. He later became employed by the United States Postal Service with over 30 years of dedicated service as a Postal Clerk until his retirement.

After retirement he worked for his brother, Pat, in his HVAC business and did a lot of handy work for many people. His family was always first and most important to him. He spent many years taking care of his mother, especially when she was very ill. He enjoyed helping others and volunteered at the Senior Center. He is a past member of St. Michael's Catholic Church in Ridge, MD.

Joe is survived by his nieces and nephews: Mike Souders, Tony Souders, Larry Souders, Bruce Souders, Helen Pridgen, Jackie Lott; his dear friend, Jeffrey Baker; and many extended family and friends. In addition to his parents he was also preceded in death by his siblings: Bill Souders, Howard Souders, James "Shorty" Souders, Gerald "Pat" Souders, and Julian Souders.

Family will receive friends on Tuesday, June 5, 2018 from 10:00 to 11:00 a.m., with a Funeral Service at celebrated by Reverend Joe Orlando at 11:00 a.m., at Brinsfield Funeral Home, 22955 Hollywood Road, Leonardtown, MD 20650. Interment will follow at 1:30 p.m. at Resurrection Cemetery, 8000 Woodyard Road, Clinton, MD 20735. Memorial contributions may be made to Hospice of St. Mary's, P.O. Box 625, Leonardtown, MD 20650. Arrangements by the Brinsfield Funeral Home, P.A., Leonardtown, MD.