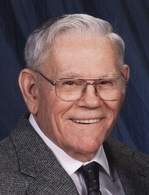 James Henry Gibson ("Jim"), 92, of Bushwood, MD, passed away on May 30, 2018 at St. Mary's Hospice House in Callaway, MD. He was born in Washington, DC, on June 30,1925 and was the son of the late Thomas Laurie and Essie Mae Gibson. Jim was one of nine siblings. In 1948, he married Susan Gertrude Dean, who was the love of his life for 67 years, and who preceded him in death on March 15, 2016.

He is survived by siblings Betty Williams of Mechanicsville, MD; Helen Hewitt of Bushwood, MD; Bernadette Zimmerman (Leon) of Leonardtown, MD; and McGuire Gibson of Chicago, IL. He is also survived by many nieces and nephews. He was preceded in death by siblings Thomas Laurie Gibson, Jr. (Patricia), Francis de Sales Gibson (Eloise Hayden), Rosaline Thorne (George), and Joseph Walter Gibson (Melanie).

During the beginning of the Great Depression, Jim's father had been unemployed for some time, and, in 1929, the family moved to Jim's grandfather's farm in Bushwood, MD. Jim graduated from Sacred Heart Catholic School in 1939 and St. Mary's Academy in 1943. He was drafted in the U.S. Army in December 1944 and was first stationed at the Dachau Concentration Camp outside of Munich, Germany, as a guard for 6 months. It was one of the most horrible and significant times of his life, which left a lasting impression. He was honorably discharged from the Army in December 1946. In October 2009, Jim wrote and published a book about his time and experience in the Army entitled "I Remember - 'Days in the Military of World War II."

He loved baseball and belonged to the Catholic League for many years. He once struck out 23 batters in one game against St. Francis Xavier. In addition to baseball, he enjoyed gardening, jigsaw puzzles, and working in his workshop. He was a carpenter all of his life, and, in 1970, he joined the Carpenter Union Local 132-177 and was a member until his dying day.

He was very active in the Sacred Heart Catholic Church parish and donated much of his time repairing and renovating the church, the church hall, and other church structures. He was in charge of decorating the church for Christmas; a job he took over from his father in 1980 after his father passed away. He truly enjoyed the church and helping out wherever he could

The family will receive friends on Tuesday, June 5, 2018 from 5:00 PM to 8:00 PM, with prayers recited at 7 PM in the Mattingley-Gardiner Funeral Home, Leonardtown, MD. A Mass of Christian Burial will be celebrated on Wednesday, June 6, 2018 at 10:00 AM in Sacred Heart Church, Bushwood, MD, with Father Anthony Lickteig officiating. Interment will follow in Sacred Heart Cemetery, Bushwood, MD. In lieu of flowers, contributions may be made to Sacred Heart Catholic Church, 23080 Maddox Rd., Bushwood, MD 20618.