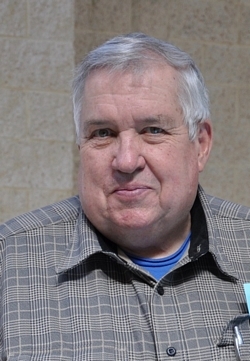 C. Richmond Gough, Jr. "Dick", 81, of Newburg, MD passed away on May 27, 2018 at Hospice of the Chesapeake in Harwood, MD, surrounded by his loving family. Born on February 19, 1937, Dick graduated from the old Western High School in Washington, DC in 1955. Dick was a kind, generous person and humble person. He was a man of strong conviction and a man of strong character. Most of all he was a devoted and loving husband, father and grandfather.

He went on to join the Coast Guard where he served with distinction, beginning his life long affection for the sea. After his service in the Coast Guard, Dick completed trade school with Steamfitters Local 602, becoming a heating and air conditioning mechanic. He worked for several companies, ultimately retiring from Giant Food in 1996 to care for his ailing wife. He had been an active member of Steamfitters Local 602 for 55 years.

Dick grew up in Denton, MD, Baltimore, MD, and Washington, DC, the grandson of Congressman and Judge Thomas Alan Goldsborough, finally settling in Newburg, MD, in the former home of his aunt, Alice Richmond Thada, He is preceded in death by his mother, Eliza Hall Goldsborough Gough, his father C. Richmond Gough, Jr. and his loving wife of 30 years, Janet Jones Gough. He is survived by his beloved daughter, Marlene Gough Kelly, his son-in-law, Chris Kelly, and his grandchildren, Christopher, Jr, Conor, Liam and Eliza, whom he dearly loved.

Dick was a life long member of the Episcopal Church, serving on the vestry and as the church sexton for Christ Church, Wayside for many years. He was also the Chairman of the Restoration Committee for Christ Church, Wayside. He was a proud member of the Masons, the NRA, and a friend of the local Amish community. Dick was a true outdoorsman who won several fishing tournaments. He was also an avid hunter. He was a gentleman farmer in his spare time farming tobacco, and lovingly tending his vegetable garden. He loved animals of all kinds and indulged his daughter in showing her animals at the Charles County Fair every fall.

Dick loved the beach and summered in Fenwick Island, DE. He was an voracious reader, and a lover of history. After retirement, he became a prolific traveler. However, Dick's greatest joy came from spending time with his daughter, son-in-law, and grandchildren. He especially enjoyed cheering on his grandchildren at their sporting and school events. He could be found on the sidelines of football, soccer, lacrosse games and at horse trials and an occasional foxhunt.

The family will receive friends at Arehart-Echols Funeral Home (211 St. Mary's Ave., La Plata, MD) on Tuesday, June 5, 2018 from 2-4PM and from 6-8PM. A Funeral Service will be held at Christ Church Wayside (13050 Rock Point Rd., Newburg, MD) on Friday, June 8, 2018 at 11AM; Interment to follow in Church Cemetery. In lieu of flowers, donations can be made in Dick's memory to Christ Church, Wayside.