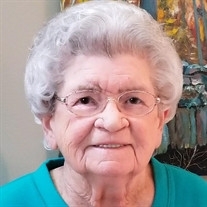 Rosemary (Fisher) Cummins (nee Dunmyer), 84, passed away peacefully on May 18, 2018, at her home in Franklinton, NC, originally of Waldorf, MD. In 2011 she retired from Charles County Freedom Landing in La Plata, Maryland, at the age of 78. Her hobbies were crocheting, jigsaw puzzles, and she was an avid reader.

Rosemary is survived by her four daughters, Earlene Rick (Bill) of Franklinton, NC, Elizabeth Swan of Conway, SC, Jacqueline Collins (Allen) of Owings Mills, MD, and Katherine Davies (Paul) of Lunenburg, VA. She is also survived by her loving Grandchildren; Trevor, Austin, Angela, Danny, Adam, Ashley, Katie, Ronald, Nathan, Dylan, Alexandra, Emily, Nicholas, Caleb; and her Great Grandchildren; Jackson, Presley, Zack, Noah, Hailey, Kimmy, Sydney, Owen and Michaela.

A visitation will be held on Thursday, May 31, 2018, from 9 AM until time of service to begin at 12 Noon at Raymond Funeral Service, P.A. 5635 Washington Avenue, La Plata, MD 20646. Interment to follow at Trinity Memorial Gardens in Waldorf, MD. Memorial contributions may be made to Ronald McDonald House and or Make A Wish Foundation.