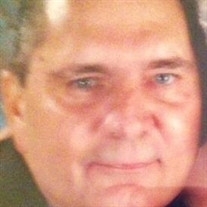 Gary P. Schwartz, 71, of Huntingtown, MD passed on Monday May 21, 2018. Born in Washington, DC he was a son of the late Cleveland B. and Alma Louise (Obrecht) Schwartz. He was the beloved husband of Donna Lee (Perrin) Schwartz. They celebrated their 41st wedding anniversary in July 2017.

Gary worked in the automotive repair field as a body man and painter for many years. Along with owning Dynamic Auto Body in Edmonston, MD, he also worked for Georges Corvette Shop and was the body shop manager at East-West Lincoln Mercury in Landover, MD when he retired in 2002. He enjoyed watching NASCAR and cheering for Dale Earnhardt, racing RC cars, rebuilding classic cars, and most of all spending time with his family and his grandchildren.

Along with his wife Donna he is survived by two daughters; Connie Stults(Jeff) and Shannon Dlouhy(Tim), Three Grandchildren; Tyler, Rilyn, and Laren Dlouhy, and a great granddaughter Adalie Dlouhy. In lieu of flowers contributions in Gary's name may be made to St Jude Children's Research Hospital at stjude.org/memorial. Arrangements by Lee Funeral Home.