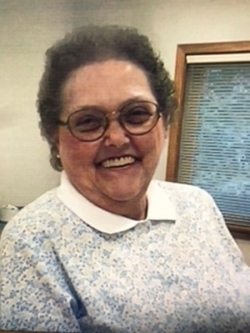 Mary Cleona Stevenson (nee Greenwald), 87, of Lusby, MD passed away on Thursday, May 10, 2018 at Solomons Nursing Center. She was born on August 15, 1930 in Washington, DC to the late Helen and Leroy Greenwald. She was the beloved wife of the late Robert C. Stevenson, Jr whom she married on January 23, 1951 in Forestville Methodist Church. Mary grew up in Suitland, MD and graduated from a vocational school in there from which she was very proud of learning to sew and iron.

Mary frequented Calvert County as a child with her parents to visit an aunt in the Ranch Club. Her and husband, Robert made the decision to move to the area in 1977, buying their first home together. Mary was a member of the American Legion Post 274 and Southern Pines Senior Center. She was an active member of both organizations, helping to raise funds for a new sewing center for her fellow community members as well as other local organizations. Her hobbies included sewing, cooking/baking, and supporting her community. For several years, she both participated in and judged at the Calvert and St. Mary's County fairs in both sewing and baking.

Mary was preceded in death by her husband, Robert in 2009, as well as her sisters Patricia Parker, Irene Gignac, and Evelyn (Ebbie) Benedetti. She is survived by her children, Robert C. Stevenson, III, Allen T. Stevenson, Elmer W. Stevenson, Russell L. Stevenson, Cleona Mary Stevenson, and Judy Lynn Meyer, along with 15 grandchildren and 15 great-grandchildren.

A memorial service is set for Saturday, June 2nd at 1:00 pm at the American Legion Post 274 in Lusby, MD. In lieu of flowers, donations can be made to Children's Hospital in Washington, DC , the American Legion, or Calvert Hospice.