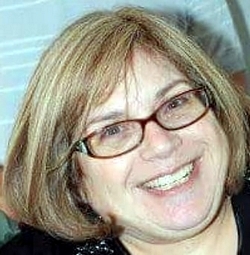 Suzanne Conway, 60, of Lynchburg, passed away at her home suddenly on Monday, October 16, 2017
She was born December 6, 1956 in Brockport, NY to Henry Paduano and Sue Garner. Suzanne graduated from Calvert High School, June 1975 earned her AA from PG Community College and continued her education graduating from Towson State University, August 1979.

She went to work for Calvert Cliffs Nuclear Power Plant, and it was there she met the love of her life Ken Conway. After a short courtship they were married on August 23, 1980 and together they welcomed their son Kenneth "KC" on March 21, 1995. She was a devoted wife, mother, wonderful sister and a very supporting aunt.

She volunteered countless hours for many charities over the years. While living in Michigan she volunteered for the Ronald McDonald House. She was a past Chairman and member of the Lynchburg City Special Education Advisory Committee and a member of the Women's Junior League of Lynchburg. To the end she volunteered as a student advocate to support special education. She was an excellent cook and her house was filled with love.

In addition to her husband, Ken, she leaves behind her son, Kenneth; mother Sue, and step-father Bryan Garner; 2 sisters Wanda Paduano and Stephany ("Bussie") Smith; 2 step brothers Shane (Tammy), and Wade; 2 step-sisters Janet (Gabriel) and Missy (Mike); her mother-in-Law, Marie; 2 brother-in-law's Steve and Larry (Barbara); sister-in-law Suzanne and several nieces and nephew, a very special niece Alexis "who she cherished", great-nephew Aaden; grandmother Minnie Kay Langley; and a very devoted friend and mentor Christy Litchford. She also leaves her two special pugs, Opal and Daisy. She was preceded in death by her grandparents, Stefania and Charles Paduano; her father Henry Paduano; and her godson/nephew Stephen Smith. Arrangements by Rausch Funeral Home.