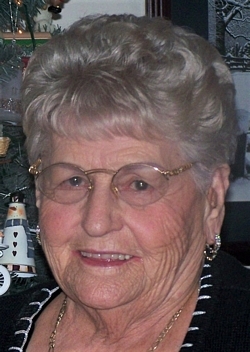 Minnie Kay Langley passed away peacefully on 3/11/2018. She was born 11/20/1920 to James and Mary Jane (Kilby) Wyatt in North Wilkesboro, NC. She married Harry Lee Langley on 4/12/1943. They were married 46 years and raised 4 children on Solomons Island while growing their marina business. She loved her children, grandchildren and great-grandchildren dearly.

When it was time to retire they sold their business and moved to FL. She lived there until returning to MD shortly after her husband died. She lived her life through rose colored glasses. Her passion was shopping and her weekly salon appointments. She enjoyed having her hair and nails done. She did so right up to the end. She loved to travel, reading and watch Dancing with the Stars. She enjoyed country music and would always hum a tune.

She was preceded in death by her husband Harry Lee, grand-daughters Helen Honey Langley, Suzanne Paduano Conway and great-grandson Stephen Harold Smith, brothers Quince, Wint, Spencer, Granville, Wade, Sherman and Claude; sisters Hester Haynes and Gertie Miller. She is survived by her children Sue (Bryan) Garner, Barbara Langley, H.L. Langley (Cissy) and Darlene (Ed) Walter, 5 grandchildren; 4 great grandchildren; 1 great-great grandson and her brother Ralph D. Wyatt along with several nieces and nephews. Minnie donated her body to science, a memorial service is being planned at a later date. Arrangements by Rausch Funeral Home.