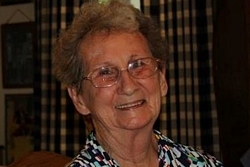 Evelyn "Evie" DeLuca, of Prince Frederick, Maryland, passed away peacefully on May 16, 2018. Evie is survived by her two children, Emery (Buddy) Dicey (Geralyn) of Port Orange, Florida and Elaine Randall (Michael) of Huntingtown, Maryland, sisters, Ethel Soudry of Akron, Ohio and Dorothy Miller of Wilmingtown, Delaware, 2 grandchildren (Christopher and Lindsay Randall), and 2 great grandchildren (Grant and Grace). She was preceded in death by her husband, Anthony DeLuca, her sisters, Mildred Breen, Helen Hair, Lillian Callahan and Margaret Buffel, and her brother, Charlie Frey.

Evie was born on July 15, 1925, in Queens, New York to Charles and Margaret Frey. She married Emery Dicey on June 11, 1949 and moved to Massachusetts. Emery passed away on February 12, 1964. She moved back to New York to be closer to her family. She later married Anthony DeLuca on May 22, 1976 who passed away on November 16, 2003.

Evie's children remember her as a dedicated mother who was very involved in their lives and activities. She always encouraged them to pursue their goals and never give up on their dreams. She especially enjoyed her grandchildren and great grandchildren. She was caring and nurturing and always wanted to teach people to be the best they could be. She was an avid sewer and knitter, always making something for someone or some project. Evie loved family gatherings, going on cruises, traveling and helping others.

While in Florida, she was an active member of St. Luke's Episcopal Church in Port Salerno, Florida and then St. John's Episcopal Church in Broome's Island, Maryland. She was also a member of Daughters of the King. She was always helping others learn about God, whether they were young or older.

A memorial service will be held at 11:00 a.m. on June 9, 2018, at St. Luke's Episcopal Church, 5150 SE Railway Avenue, Port Salerno, Florida, officiated by Rev. Carol Barron. After the service, she will be laid to rest with her husband, Tony DeLuca in St. Luke's Garden of Repose. All are welcome to attend and celebrate Evie's life. In lieu of flowers, donations can be made in her honor to Calvert Hospice, 238 Merrimac Court, Prince Frederick, Maryland, 20678.

The family is very thankful to Calvert Hospice (especially Terry and Brooke) who took such wonderful care of our Mother and to all those individuals who took care of her and provided faithful care, kindness and compassion. Arrangements by Rausch Funeral Home.