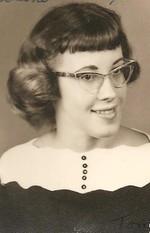 Antonette, (Toni) Selby, 76, of Hollywood, MD formerly from Monessen, PA passed away on May 14, 2018. Born on June 13, 1941 in Monessen, PA, she was the daughter of the late Lydia Franks and Anthony Franks. Antonette was the loving wife of Richard Kenneth Selby whom she married in Memphis, TN on April 28, 1962.

Antonette is survived by her children; Richard K. Selby, Jr. and Thipawan Selby of Hollywood, MD, Paul J. and Melinda Selby of Hollywood, MD, Kelly M. Selby, and 10 grandchildren. Along with her siblings, June DeMarco of Charleroi, Pa, Ruby Pezzelle of Monessen, PA, Marge White of Port Orange, FL, and Betty Rubachco of Laguna Nigel, CA.

She graduated from Monessen High School in 1959, and moved to St. Mary's County, MD in 1963. Antonette was a day care provided for over 20 years. She enjoyed cooking and being with family and friends.

A Funeral Service will be held at a later date. Pallbearers are; Richard K. Selby, III, Dylan A. Selby, Shawn Selby, Kasey Selby, Austin Selby, and Hunter Selby. Honorary Pallbearers are; Hannah Selby, Scott Price, and Chirasak Luithong, and Thirasak Luithong. Arrangements by Mattingley-Gardiner Funeral Home.