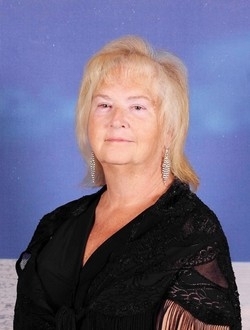 Jacqueline "Jackie" Adeline Lozier, 67, of California, MD died on Sunday, May 13, 2018. She was born on November 11, 1950 in Washington, DC to the late James Landers and Mary Ethel (Sydnor) Parrott.

Jackie will always be remembered as one of the most caring and fun-loving people anyone could ever meet. She would give you the shirt off her back. If you ever needed help, someone to talk to or a ride somewhere all you had to do was ask. Elvis, George Strait, Dancing, Karaoke, Shuffle Board Bowling, going out to eat (especially crabs) and most of all spending time with family and friends were her favorite things to do. Her most favorite was spending time with the grandchildren. Jackie and the grand kids loved going to the pool and just venturing out.

Christmas eve dinner was always one of their absolute favorites and grandma would go all out cooking their favorite dishes. Going to Myrtle beach or any beach and camping was another one of Jackie's favorite things to do. If it was fun she was up for it and made it happen. She spent every moment of her time on the move as much as she possibly could and was not going to sit idle. If there was fun to be had, she was all for it and there was no stopping her. Jackie enjoyed life no matter what and understood what was before her. She is, not was, an inspiration and will be miss very deeply by those whose life she touched.

Jackie is survived by her daughter Angela Marie Goad (Bernard) of Great Mills, MD, 4 grandchildren Connor Goad, Danielle Goad, Stephanie Foster (Derek) and Christopher Goad, two great grandchildren Kori Foster and Micah Foster. Her siblings, Audrey Abraham (George) of Mechanicsville, MD and Esther Newcomb (Tom) Virginia Beach, VA. Jackie is survived by numerous family members and friends; her memory will live on. She is preceded in death by her parents.

Family will receive friends on Thursday, May 17, 2018 from 5:00 p.m. to 8:00 p.m., at Brinsfield Funeral Home, 22955 Hollywood Road, Leonardtown, MD 20650. Prayers will be at 7:00 p.m. A Mass of Christian Burial will be held on Friday, May 18, 2018 at 11:00 a.m. at St. George Catholic Church, 19199 St. George's Church Rd., Valley Lee, MD 20692. Interment will follow at Charles Memorial Gardens, 26325 Point Lookout Rd., Leonardtown, MD 20650. Pallbearers will be, Bernard Goad, Thomas Newcomb, George Abraham, James Bentley, Jr., Charles Garner, Sr., Charles Garner, Jr., Robert Hawkins, Sr., Charles Russell and Steven Wilkinson. Honorary Pallbearers will be Connor Goad and Dylan Newcomb. The family requests that any memorial gifts be made to either Hospice House of St. Mary's, Post Office Box 625, Leonardtown, MD or wreathsacrossamerica.org code: MDCHVC. Arrangements by the Brinsfield Funeral Home, P.A., Leonardtown, MD.