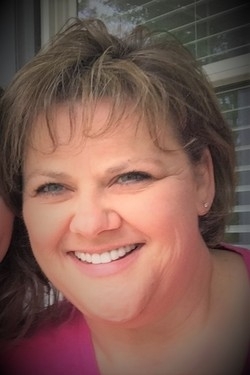 Karen Joyce Byrne, 45, of Scotland, MD, passed away on Thursday, May 10, 2018 at her home surrounded by her loving family. She was born June 5, 1972 in Leonardtown, MD to the James "Sonny" and Gail Dean of Scotland, MD. Karen married the love of her life, Douglas Byrne on November 16, 1996 at St. Michael's Church, Ridge, MD. Together they raised three beautiful children.

Karen worked as a Financial Analyst for 20 years and for the Department of Defense for the past 3 years. She loved her job and her coworkers. She was a past President of the Southern Maryland Women's Pool League. She loved her family and friends and music. Karen loved to take pictures and make home movies. She enjoyed canning green beans and applesauce and had a special way of doing laundry, which she really liked to do. She never met a stranger and welcomed everyone with a huge smile and a hug.

Karen is survived by her husband Doug, children: Jacqueline Grace, Chloe Autumn and Derrek James, her siblings: Michele Lee Slade of Dameron, MD and Jill Marie Murray of Leonardtown, MD, and her Nieces and Nephews: Samantha Slade, Meagan Slade, Joshua Slade and Marco Murray.

Visitation will be held Monday, May 21, 2018 from 5:00 PM until 8:00 PM with prayers recited by Reverend Peter Giovani at 7:00 pm at St. Michael's Catholic Church, 16566 Three Notch Road, Ridge, MD 20680. A Mass of Christian Burial will take place Tuesday, May 22, 2018 at 11:00 AM at St. Michaels Catholic Church. Interment will be private. A reception will follow services at the Ridge Volunteer Fire Department.

In lieu of flowers, memorial contributions may be made to The Archangel Scholarship Foundation Corporation, P.O. Box 211, Ridge, MD 20680 or Leslie's Week www.lesliesweek.org. Please mention, Karen by name with your gift. Kindness may also be shared to her children directly, ? Doug Byrne, P.O. Box 152, Scotland, MD 20687. Arrangements by the Brinsfield Funeral Home, P.A., Leonardtown, MD.