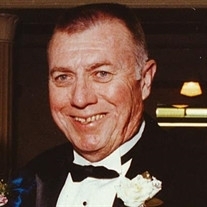 Stephen O'Brien Leahy, age 80, of Swan Point, Maryland, died May 14, 2018 at the Charles County Hospice House in Waldorf, Maryland. Stephen was a Veteran of the United States Army and a graduate of Benjamin Franklin College with a degree in Accounting. He was also an Accountant with the United States Government E.P.A. for 35 years. He was a member of Holy Ghost Catholic Church in Issue, Maryland and was a home-body, enjoying taking care of his family and his house.

He was the son of George Leahy and Johanna O'Brien Leahy. In addition to his parents, he was also predeceased by his brother, George Leahy Jr. and his sister, Margaret Davis. He is survived by his wife of 53 years, Gloria Jean Farrell Leahy; his son, Kevin O. Leahy; his daughter, Maureen T. Brewer (Matthew); and his grandchildren, Ellie Brewer, Madilyn Leahy, and Caroline Leahy.

Funeral Services and Interment will be private. Memorials to Holy Ghost Church (Issue), 15848 Rock Point Road, Newburg, Maryland 20664. Arrangements by Raymond Funeral Service.