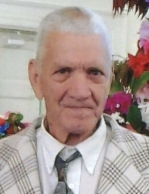 Philip Ignatius Tayman, 75, of Walhalla, SC formerly of Mechanicsville, MD died May 9, 2018 at 4:02 am at GHS Hospice of the Foothills in Seneca, SC. Born March 20, 1943 at 8:30 PM in Clements, MD. He was the son of the late William Lawrence Wathen and Rose Viola Gray they abandon him. Later adopted by the late Thomas Douglas Tayman and Mary Delia Tippett March 7, 1950.

Mary Delia Tippett Tayman raised her son Philip Ignatius Tayman until she died July 8, 2004 at the age of 89. Philip Ignatius Tayman was then willed to Brenda Gail Derrick Buckler of Mechanicsville, MD Husband John Oscar Buckler, Sr. Then Philip moved with them to Walhalla, SC 29691 where Philip Ignatius Tayman lived till he died.

The family will receive friends on Monday, May 14, 2018 from 5:00 PM to 8:00 PM with prayers recited at 6:30 PM in the Mattingley-Gardiner Funeral Home Leonardtown, MD. A Mass of Christian Burial will be celebrated on Tuesday, May 15, 2018 at 10:00 AM in Immaculate Conception Catholic Church Mechanicsville, MD with Father Anthony Lickteig officiating. Interment will follow in Queen of Peace Catholic Cemetery Morganza, MD. Pallbearers will be: Oscar Buckler, B.J. Buckler, Sammual Buckler, Leo Harding, Wayne Ballen, and Brandan Ballen. Honorary pallbearers will be Nathan Buckler, Travis Ballen, and Larry Ballen.