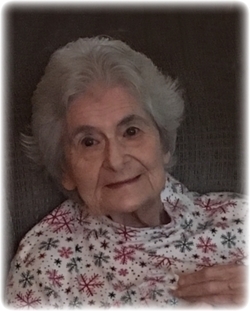 Claire McNeill Russell, 91, of Leonardtown, MD passed away May 9, 2018 at St. Mary's Nursing Center in Leonardtown, MD with her loving family at her side. She was born November 1, 1926 in New London, CT to the late Sylvester Aloysius McNeill and Eleanor Rattigan McNeill. In February 1949, Claire married her beloved husband, Dick Russell in Mystic, CT. Together they celebrated over 51 wonderful years together before his passing in 2000. She will also be remembered as being the BEST mom & mother-in-law in the whole darn universe!

She was a devoted military wife for 30 years and followed her husband through his entire Navy career which included flying recon missions in Viet-Nam and a stint with the world famous Blue Angels. She was an excellent cook and delicious baker. She and her husband completely refurbished a 1926 antique boat and enjoyed taking boating trips to the local islands. She also liked to crab and fish. She was a beautiful dancer and liked to play scrabble and roll yatzee. Her family was her greatest love and she enjoyed spending time with them.

Claire is survived by her children: David Russell (Patti) of Leonardtown, MD, Brian Russell of Lexington Park, and Elizabeth Cecil (Larry) of Sunset Beach, NC; her siblings: Marguerite Sheflott of Fort Meyers, FL, Charles McNeill (Patty) of Pawcatuck, RI, and Robert McNeill (Beverly) of Fort Meyers, FL; her grandchildren: Heather Cecil of Sunset Beach, NC, Jesse Ford (Nicole) of Kings Bay, GA, and Jeff Ford of Hollywood, MD; her great grandson, Tyler Ford of Goose Creek, SC; and many extended family and friends. In addition to her parents and husband, she is also preceded in death by her sisters, Elizabeth Lamb and Frances Gillen of Groton, CT. A Graveside Service will be held at a later date at Arlington National Cemetery. Arrangements by the Brinsfield Funeral Home, P.A., Leonardtown, MD.