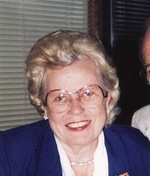 Ada Eleanor Faunce Schmitz, 99 of Coltons Point, MD passed away on May 6, 2018 at her home surrounding by her loving family. Born on May 2, 1919 in Coltons Point, MD she was the daughter of the late Ada Emma Goddard Faunce and Conrad Elmer Faunce. Ada was the loving wife of Philip Leo Schmitz whom she married on September 20, 1947 in Washington, DC. Ada is survived by her children; Thomas Philip Schmitz of Silver Springs, MD, Lawrence Edward Schmitz of Plano, TX, Leonard Joseph Schmitz of Gaithersburg MD, Gregory Paul Schmitz of Coltons Point, MD and Eleanor Marie Schmitz Webb of Clarksburg, MD. 11 Grandchildren and 7 Great-Grandchildren. She is preceded in death by her siblings; Charles Hamilton Faunce, Conrad Elmer Faunce, Margaret Fenwick and Infant Mary.

Ada served in the United States Navy, Yeoman 2nd Class for 3 years from 11/1942-10/1945. While serving in the Navy her Duty Stations were: NTS, Cedar Falls, Iowa, NTSch, (Y) Milledgeville, GA and BuPers, Arlington, Annex. Ada was also employed as a Secretary for Washington Title Insurance Company for 4 years from 1939-1942 and was a Homemaker.

The family will receive friends on Friday, May 11, 2018 from 5:00-8:00 PM with prayers recited at 7:00 PM in the Mattingely-Gardiner Funeral Home Leonardtown, MD. A Mass of Christian Burial will be celebrated on Saturday, May 12, 2018 at 11:00 AM in Holy Angels Catholic Church Avenue, MD with Father Anthony Lickteig officiating. Interment will follow in Sacred Heart Catholic Cemetery Bushwood, MD. The Pallbearers will be: Larry Schmitz, Len Schmitz, Greg Schmitz, Arthur Webb, James Wallace and David Potthast.